Pet Adoption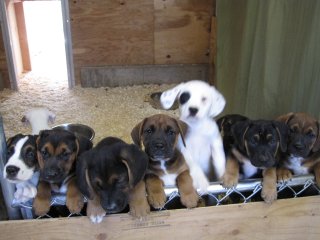 New puppies waiting for their forever home
Meet Hermann…
my new puppy from Bandits Place! He still has litter mates waiting for their forever homes
and there are other cute puppies, and adult dogs waiting for homes there too.
DNA TEST RESULTS ARE IN!
Hermann's dad was a Jack Russell Terrier. His mom was 1/2 Rottweiler and 1/2 mixed. The mixed part "COULD HAVE" one or more of these breeds in descending order of probability
Tibetan Mastiff, Bulldog, Xoloitzcuintli, Jindo, and Saint Bernard.
If you want to learn more listen in to WTIC this Saturday the 8th at 2 PM. Or listen to the podcast for that date on the WTIC website. Cancelled due to Red Sox game