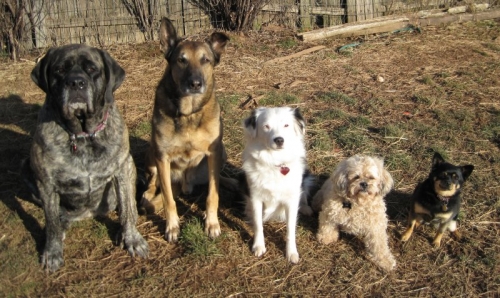 Why hire a professional trainer, can't I read and do it myself?
While it is certainly possible to accomplish something by yourself, reading and using the Internet is just not the same thing as having a real experienced expert working hands on with you. With the right help you can accomplish things with your dog that alone would not be possible. The feedback I get consistently is "I didn't realize there was so much to learn," and my response is that after more than 30 years I'm still learning new things too.
Are some dogs just untrainable?
This is rarely the case. When people are not successful it is usually because they haven't learned the right techniques and tools to solve the problem. Sometimes people have a dog that is just not suited to their personality and lifestyle. In some of these cases it may be best for all concerned to re home the dog in a more suitable environment.
Is it true that dogs that have problems were just mistreated?
Absolutely not! People don't realize that dogs vary tremendously from the day they are born. Even within the same breed you will see tremendous variation. This is why it is critical to be careful in the selection process. If at all possible meet the parents of the dog you want to get. If there is something that makes you uncomfortable with either parent seriously reconsider your choice.
What is the ideal age to start training?
You will be starting the training process as soon as you bring your dog home, whether you are aware of it or not. Even very young puppies observe, absorb, and retain your interaction with them. You may choose to get advice with private lessons at any age. If you want to enroll in a group generally around 12 weeks is a good time, since before that time a puppy's attention span is limited and a group format is not necessarily ideal, although exceptions may be made in certain cases.
Does a dog just get too old to learn at a certain point?
No. The only consideration as a dog ages is to make sure they are physically sound. If a dog has health or discomfort issues these need to take precedent. The hardest part of retraining older dogs is retraining the people who have a long history of interaction that is not productive. Most dogs of any age are pretty flexible and willing to learn.
How long will it take to train my dog?
It depends on a variety of factors. Sometimes people are able to solve their problem in as little as one session, other dogs need more help. It also depends on your expectations. Solving a simple problem is not the same thing as having a completely trained dog. Not all dogs learn as quickly, and not all people do either. The best way to get an idea of how long it will take is to contact me so I can get enough information to give you an educated estimate based on your dog's personality and your goals.
What is your philosophy on dog training?
Dogs are intelligent animals with the ability to reason and feel. People frequently use a human framework to try to understand their dog's thoughts and emotions. To try to communicate with your dog as if it is a small child will create confusion in your dog and disappointment with your results. It is important to learn to communicate in a way that makes sense to a dog. You need to break things down into pieces, use motivation that your dog enjoys, and use correction that is appropriate and your dog respects. With the proper balance of all of these things you then can enjoy good results.
Do all members of the household need to participate in training?
There is good news and bad news. Anyone who wants to have control over their dog has to participate to some degree. Training won't entirely transfer from one person to another. Any one person can get a dog to understand what is expected and what commands mean for them, but the bad news is a dog will not understand to do it for just anyone. Respect and trust needs to be earned by each individual. However, the good news is, if a family member chooses to not participate, they can't take away your results, they just won't enjoy the best results for themselves.